THE SUNFLOWER
Though the Sunflower was first produced in France during the late 1800's, its florid pattern of Spring flowers and flowing curves embodies the Victorians' passion for ornamentation.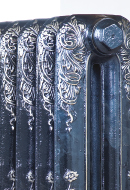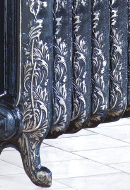 All our radiators are finished using a black primer. Alternately, if you wish, why not let us paint them from one of the thousands of Ral colours or our specialised finishes. Below are samples of the many colours that can be used to give you a classic, modern or contemporary look.
Simply ring your nearest dealer or download our brochure for full customisation options.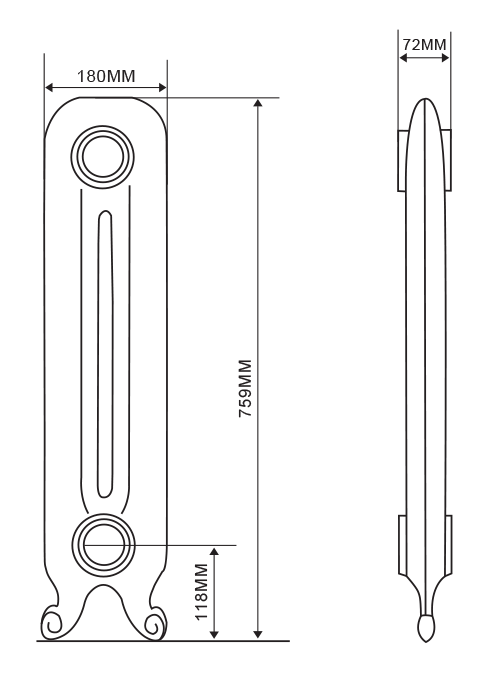 DIMENSIONS
LEG SECTION HEIGHT
759mm
SECTION LENGTH
72mm
MIDDLE SECTION HEIGHT
687mm
SECTION DEPTH
180mm
BOTTOM INLET TO FLOOR
118mm
TOP INLET TO FLOOR
718mm
PIPE CENTRES TO SKIRT
90mm
HEAT OUTPUT PER SECTION
DELTA ∆T 50˚C
104 Watts / 357 BTUs
DELTA ∆T 60˚C
132 Watts / 450 BTUs
WEIGHT
EMPTY WEIGHT PER LEG SECTION
10.64Kgs
EMPTY WEIGHT PER MIDDLE SECTION
10.04kgs
FILLED WEIGHT PER LEG SECTION
12.89 Kgs
FILLED WEIGHT PER MIDDLE SECTION
12.79 Kgs
VOLUME PER LEG SECTION
2.25L
VOLUME PER MIDDLE SECTION
2.75L
*All measurements and sizes are approximate.
*All RAL swatches below are examples and may not be true to colour shown here, please check with your dealer for a specific RAL colour.