THE CHERUB
The antique style of this beautiful radiator originated in the romanesque and bohemian architecture of Central Europe. It was developed and manufactured in the USA by the American Radiator Company in 1842.
The lavish floral motif feels right at home in a period or traditional setting, though the intricate style creates a striking visual impact in an industrial or contemporary interior.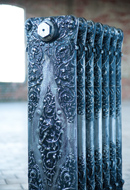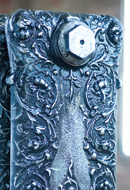 All our radiators are finished using a black primer. Alternately, if you wish, why not let us paint them from one of the thousands of Ral colours or our specialised finishes. Below are samples of the many colours that can be used to give you a classic, modern or contemporary look.
Simply ring your nearest dealer or download our brochure for full customisation options.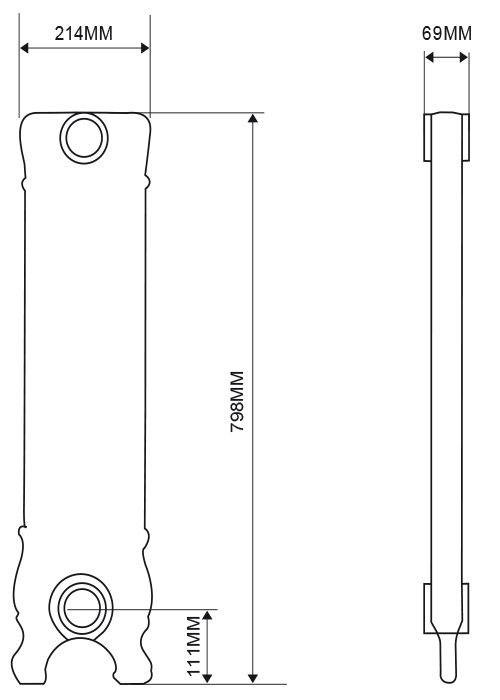 DIMENSIONS
LEG SECTION HEIGHT
813mm
SECTION LENGTH
65mm
MIDDLE SECTION HEIGHT
740mm
SECTION DEPTH
200mm
INLET & EXIT
642mm
BOTTOM INLET TO FLOOR
110mm
TOP INLET TO FLOOR
750mm
INLET TO SKIRTING
100mm
HEAT OUTPUT PER SECTION
DELTA ∆T 50˚C
111 Watts / 378 BTUs
DELTA ∆T 60˚C
150 Watts / 511 BTUs
WEIGHT
EMPTY WEIGHT PER LEG SECTION
15 Kgs
EMPTY WEIGHT PER MIDDLE SECTION
13.15 Kgs
*All measurements and sizes are approximate.
*All RAL swatches below are examples and may not be true to colour shown here, please check with your dealer for a specific RAL colour.